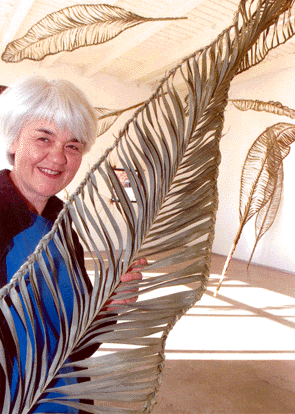 Maureen Lander in her "House of Leaves" installation, 2002. Maureen is a New Zealand artist, working in site-specific installation. She teaches Maori Material Culture at the University of Auckland and has recently gained a Doctorate in Fine Arts at Elam School of Fine Arts.
During 2002 she undertook fifteen weeks as artist-in-residence at Nelson Marlborough Institute of Technology. Following travel to France, Germany, and UK with fellow NZ artist, Christine Hellyar, the two collaborated on an installation , "Mrs Cook's Kete", at Pitt Rivers Museum, Oxford.
They are now working on a "Pacific Pathways" internet project in collaboration with staff from the Pitt Rivers Museum, which will link to the "Mrs Cook's Kete" installation. (kete= Maori for kit or bag).