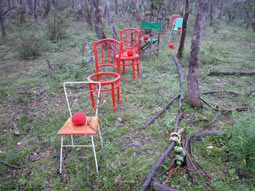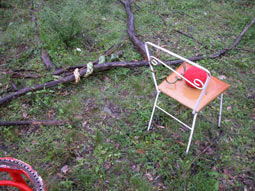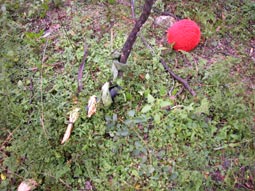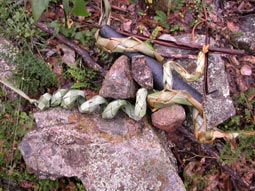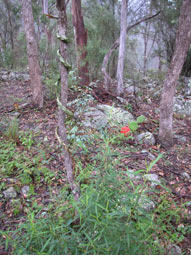 During the artist's camp in the Burragorang Valley I began working with the many and various types of chairs that Alison and Boyd (share owners of the land and organisers of the camp) had collected from opshops, relatives and street corners. With the help of others I placed them in the dam and organised two events on the chairs with the artists dipping their feet in the muddy water, making strange hats and sounds.
After the events I moved the chairs and benches across the road to a dry dam surrounded and enclosed by paper barks and photographed each stage of their move over the fence and across the road.
A few days into the camp Maureen Lander, an artist from NZ, and I discussed our common interest in String Figures. Maureen has alot of knowledge about the traditions of String Figures from Maori and other cultures.
Maureen was working a long way from the camp in the bush on a ridge deeper into the Burragarong Valley. The site was like an amphitheatre to the many bird sounds of the valley, especially at dawn and dusk. Maureen was making snakes from flax, hoping to see a snake for the first time. There are no snakes in NZ. Infact Maureen was the only one not to see the one real snake that appeared because she was on the ridge. We began to work together.
We moved the chairs down the valley towards her site, photographing each stage of the move. We marked the track to the ridge with large balls of red wool so the walk to the site became visible and part of the work.
Boyd, a musician and composer and busy site manager, joined us to record people making snake sounds. Everyone had a unique response. Boyd installed the speakers which carried these strange snake sounds in the bush at the end of the marked track, midst flax snakes and the rocky outcrop. These sounds fused with the other sounds of the bush.
The final part of this work was an outcome of Maureen and I drawing the birds and snakes that Alison and Boyd had seen in the valley. They had meticulously identified and documented each species in a journal. From the field guides we made drawings on the ground of the dry dam, using wool and staples. Next to each bird there is a sound typed onto a reed. The sounds of the birds were silent until people read out the sound of the birds.
Together Maureen, Boyd and I created a track linking the dry dam of birds and snakes, to the bushy ridge of flax snakes and fake snake sounds.