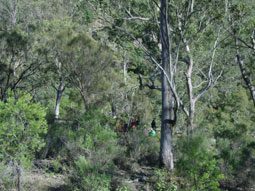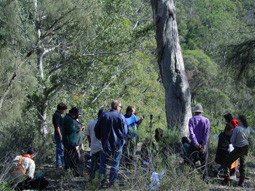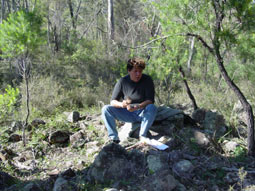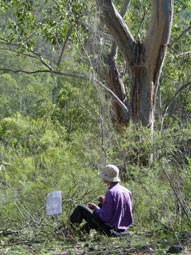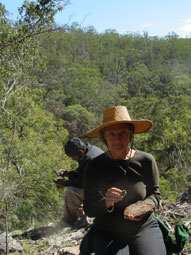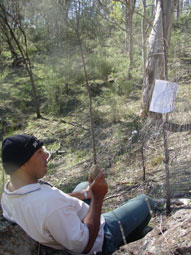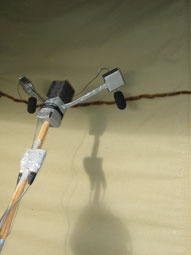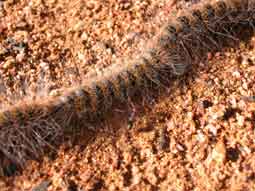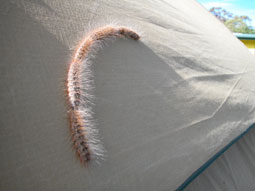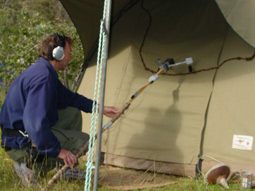 The gathering of artists at Chants Huts, Australia in April 2003 was an endeavour to create, exchange and explore ideas amongst the selected group of artists from around the world. The Burragorang International Artists' Workshop (BIAW) consisted of 23 artists who camped in the Burragorang Valley, regional News South Wales, for two intensive weeks. The group of artists included Indigenous and Australian artists, artists from Sri Lanka, Malaysia, Pakistan, Vietnam, New Zealand, Japan, Thailand, USA, Finland and Norway.
The coordinators of the BIAW were artists Alison Clouston and Boyd whom have been working towards organising these two weeks for over a year. There have been several projects around the world similar to BIAW which used the Triangle Arts model as a way of bringing a diverse group together to share and create on themes of nature, environmental issues, culture, spirituality and others.
One of the participants was the Norwegian composer and percussionist Kjell Samkopf. He has earlier participated in similar artist camps in the Norwegian mountains. These experiences have resulted in the CDs "Mårådalen Walk" (1994), which contain recordings of footsteps, and "Mountain Listening" (1998), containing five sonographical portraits of people listening. In 2002 - the UNESCO Year of the Mountains - Samkopf made the CD "Music for Large Mountain and Vibraphone" together with the Dutch composer and sonographer Floris van Manen. These CDs reflect Samkopf's affiliation and his harmonious relationship with nature.
Samkopf´s contribution to the BIAW is a 77 minutes long CD titled Burragorangian Stones. It consists of recordings of the Burragorang landscape with the subtle addition of the soft clicking of stones. The recordings reflect the natural changes in the soundscape made during the day and night in various weather conditions of wind, sun and rain. Pure nature sounds interact continuously with elements of culture; passing aeroplanes, distant motor bikes and the soft voices of the BIAW participants, all counting in their own native language. There are no track indicators so one has to listen to the whole 77 minutes at once. Listening takes time and the recommendation of earphones is strongly advised. Samkopf is now looking for a CD company who is willing to release his new Australian work.
(For info visit www.klankshap.nl/cd and www.mic.no).